Friday, April 30, 2010
An interaction with mediapersons by the Star cast of the upcoming film "Housefull", at Unitedworld Business school in Ahmedabad.
Posted by

Mahendra
at 6:09 AM
0 comments


By Taran Adarsh, April 30, 2010 - 12:50 IST
At the very start of the film, Sajid Khan pays his respects to several notable names of the 1970s and 1980s, who redefined Hindi commercial cinema. And that gives you ample idea of what to expect from HOUSEFULL, which, very frankly, stresses on wholesome entertainment like those wonderful entertainers made by Manmohan Desai, Prakash Mehra, Feroz Khan, Hrishikesh Mukherjee, K. Raghavendra Rao, Narendra Bedi, Ravi Tandon and Brij. No wonder, films made by these icons have tremendous recall value even today.

The two things you expect from HOUSEFULL are non-stop laughter and non-stop entertainment. That's because the promos of the film have already given you an inkling of what to expect from this film. Besides, Sajid Khan swears by wholesome entertainers, so it's only natural to expect HOUSEFULL to bring the house down.

We loved Manmohan Desai and Prakash Mehra's movies because they transported us to a world of make believe, into a fantasy world, keeping us thoroughly entertained for those 3 hours. Obviously, we never questioned the logic then because we knew that entertainment was the keyword. HOUSEFULL takes the same route
HOUSEFULL entertains majorly at places, but it's an uneven ride. Uneven, because the pace dips at several places. It's not a rip-roaring laugh-riot or a non-stop laughathon that one expects it would be, since the focus is on emotions and drama as well. Even the climax, I am sure, will meet with diverse reactions. It will have its share of advocates and adversaries.

Final word? The actors are top notch and so are their performances. Wish the script would've been equally super. Yet, despite the hiccups, HOUSEFULL should be lapped by moviegoers in a big way because the audience is starved for that solid entertainer with big stars for more than two months now.

HOUSEFULL narrates the story of Aarush [Akshay Kumar], the world's unluckiest man. Being jinxed, he believes his bad luck can vanish if he finds true love. In this quest for true love, he gets married to the daughter [Jiah Khan] of a wealthy businessman Kishore Samtani [Randhir Kapoor]. But there's a twist in the tale…

Enter Sandy [Deepika Padukone], who falls in love with Aarush. But complications follow thereafter as Sandy's brother, Major Krishna Rao [Arjun Rampal] and Hetal's [Lara Dutta] father, Batuk Patel [Boman Irani] enter the scene. How Aarush and his buddy Bob [Riteish Deshmukh] come out of this mess forms the crux of the film.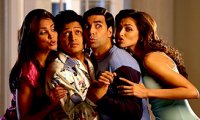 Like HEYY BABYY, HOUSEFULL has a story to tell as well. It's not merely an assemblage of funny sequences or a mere montage of comic scenes. But some of the funny sequences are sure to make you flex your facial muscles wide. Note Akshay's intro, or the sequence involving the vacuum cleaner, or Akshay getting a pet home, or the entire Chunkey Pandey track in Italy. Simply howlarious!

Sajid balances the dramatic moments well. The Jiah Khan sequence soon after the marriage is very interesting and so are the sequences in the second hour, when Arjun and also Boman land up at the mansion. The comedy of errors is truly funny at times and also the gay angle, which has been injected in this half. It may not be as memorable as the Kantaben track in KAL HO NAA HO, but is funny nonetheless. Talking of dramatic sequences, the ones between Akshay and Arjun are fantastic, especially the lie detector test, which is amongst the best sequences of the film.

Director Sajid Khan knows his fundas right. He packs just about everything to entertain you for the next two hours, but the screenplay could've been tighter. While the pacing is slow in the first hour, it's the second half which has a lot to offer. Overall, Sajid jumps into the big league of film-makers who make films for the masses and successfully at that!

Shankar-Ehsaan-Loy's music is pleasant. Vikas Sivaraman's cinematography is top notch. The locales of Italy are mind-boggling.

Every actor in this film takes the film to the next level. Akshay underplays his part beautifully. All those who felt that the actor tends to get loud or needs to be controlled will change their opinion with this film. He's the soul of HOUSEFULL. Riteish is incredibly natural. I've often felt that Riteish is one actor who doesn't give you an impression that he's 'acting'. Though the story primarily revolves around Akshay, Riteish stands shoulder to shoulder with Akshay in this one. Arjun Rampal is fantastic. Post OM SHANTI OM and ROCK ON!!, HOUSEFULL is yet another film that taps Arjun's talent to the maximum.


Deepika is a surprise. She carries her part with amazing confidence and again, post OM SHANTI OM and LOVE AAJKAL, HOUSEFULL is the film that would make people notice her talent as well as beauty. Lara is a seasoned player when it comes to comedies and she's too good yet again. Her scenes with Riteish in particular and also with Boman are first-rate. Jiah is a revelation. Although she doesn't get much scope, she manages to register an impact nonetheless.

Randhir Kapoor is very good. Boman Irani is excellent and is amongst the driving force of the second hour. Chunkey Pandey is sure to bring the house down. He is exceptional. Lilette Dubey is competent, as always. Malaika Arora Khan is alright.

On the whole, HOUSEFULL is not a complete laugh-riot, but is an entertainer all the way, targeted at the hardcore masses. What really works for the film is its massive star cast, gripping second half and also the skilled performances by each and every member of its cast. The audience is starved for a good commercial entertainer and HOUSEFULL should bring HOUSEFULL boards back outside cineplexes.
Posted by

Mahendra
at 2:47 AM
0 comments


Meet N Greet with Housefull stars
In the past
Bollywoodhungama.com
has organized several contests giving surfers a chance to Meet-n-Greet their favorite stars. However, this time around, things were bigger and better. After all at this exclusive Meet-n-Greet event organized by
Bollywoodhungama.com
, there were not one or two but a '
Housefull
' of stars in attendance. So you had Akshay Kumar, Riteish Deshmukh, Arjun Rampal, Deepika Padukone, Jiah Khan and director of
Housefull
-Sajid Khan who took out some special time to meet and interact with their fans.
The long wait became absolutely worth it for the lucky contest winners the moment the stars entered the venue. Akki looked dapper dressed in a green shirt and black trousers, Deepika showed off her curvaceous figure in a bright orange dress, Jiah looked super sexy in a little black dress while both Arjun and Riteish preferred to keep it simple wearing a white shirt with blue jeans.
The stars interacted with their fans and spoke about their film
Housefull which releases world wide today. Akki, Riteish and Sajid seemed to be in a jovial mood pulling each other's leg with their wisecracks and witty one-liners.
After the brief round of interactions, it was time for the contest winners to get a chance to have a photo opportunity with the cast ofHousefull. The star-struck fans couldn't believe their luck that they were standing so close to their favorite stars. This is surely one evening they will remember for the rest of their lives.

Bollywoodhungama.com has always organized some really interesting Meet-n-Greet events with some of the biggest stars right from Shah Rukh Khan to Ranbir Kapoor and Priyanka Chopra to Katrina Kaif. In the future too, there will be many such exciting contests.

Bollywoodhungama.com is also giving a chance for members of respective star fan clubs on the site to meet their favourite star, in person. So, keep your profiles updated with correct details as you never know when you'll get a call from us.

So, all you need to do is participate regularly and pray that you get lucky.
Posted by

Mahendra
at 1:53 AM
0 comments


Wednesday, April 28, 2010
Only superstars have huge B.O. pull & I'm nowhere near that standard" - Akshay
By Joginder Tuteja, April 28, 2010 - 12:46 IST
Akshay Kumar has stopped being diplomatic. After the onslaught that he faced with the release of Chandni Chowk To China, he decided to call 'enough is enough' and took a front foot during the promotion of Blue. He was quite vociferous about the current trend in Bollywood where negative reviews start floating through SMSes on Thursday night itself. He kept his head high up during De Dana Dan as well and is maintaining the same mood for Housefull as well, which many tout as being all set to fetch the biggest ever opening of Akshay's career.

This appears to be a good follow up to the 2006-2008 phase for Akshay when number of his films worked primarily due to his star presence and knack of going over and above the script. No wonder, it led to soaring expectations amongst the audience due to which they became greedier for content as well rather than just look at Akshay Kumar on screen. 

"I see what you are saying, and again I agree that expectations are a very tricky business. But I am only one man", says Akshay, "I will always give my best, but I know I am not always right. I can't rely on my screen effort alone to make a movie successful. There must be content, memorable dialogues, fantastic songs, love, romance, passion, tears, and laughter. But I am just one actor; I am not a professional in all areas when it comes to films. I make so many films that it becomes impossible to put so much attention to detail in everyone that I make. My actual answer is that I know I must give my audience more and yes, I am working on it." 

Well, one has to agree when Akshay acknowledges working on too many movies. Last year itself saw the release of as many as five films that were evenly spread out right through those 12 months. Also, except for 8X10 Tasveer and to an extentChandni Chowk To China, each of his other three releases did take a very good opening. Whether it was Kambakkht Ishq, Blue or De Dana Dan, no one could have really complained as far as the opening weekend was concerned. Still, not many from the trade or industry are willing to acknowledge this box office pull. Why has that been the case, one asks Akshay? 

"Because not many people, whether it's the heroes even heroines really want to see others succeed", comes a blunt answer from Akshay, "I am not saying there is anything wrong with that; after all it's just human competitive instincts. I know I had very good openings last year, and so do these actors as well. But then they can't be expected to happily acknowledge that even some of my not so great movies have also fetched such bumper openings." 


He shrugs away the mentality of his peers and counterparts. "It's ok if that's the way they wish to be", sighs Akshay, "Actually I reckon the day when our industry comes together and works in unison. Now that will be the day when our industry will become the strongest. No bitching, no bad mouthing, no sabotaging - just pure enthusiasm for each other's work. Of course, it all sounds almost too good to be true, isn't it?" 

Talking about his films taking an opening, it is a known fact that for any actor, it's his/her right to claim superstar status as long as a film opens well. After that, it's the product that has to do the talking, right? 

"Errr, well I would say 'kind of' actually", says Akshay after a quick thinking, "Yes, it is my duty to pull in the crowds but then it is also my duty to keep them coming film after film. Even if a movie isn't the best as it should be, as a superstar one must be great enough to still convince people that the film is worth seeing even if it is just to see your performance and not the film." 

He is quick to admit that he is yet to attain such superstar status. 

"That's right, only superstars have that power that results in the kind of box office pull that I was mentioning. I admit that I am nowhere near that standard (yet). Once that happens, then and only then do you really get to be called a Legend. Yup, not lucky, but a real Legend", smiles Akshay before signing off.
Posted by

Mahendra
at 6:58 AM
0 comments


Tuesday, April 27, 2010
बॉलीवुड के मिस्‍टर खिलाड़ी अक्षय कुमार की जिंदगी में कई अभिनेत्रियों ने दस्‍तक दी। सबसे पहले नाम आता है खूबसूरत अभिनेत्री शिल्‍पा शेट्टी का। यह तो सभी जानते हैं कि शिल्‍पा और अक्षय का रिश्‍ता दोस्‍ती से कुछ आगे का था। खैर यह तो अ‍तीत की बात है। अब ये दोनों अपनी-अपनी शादीशुदा जिंदगी में खुश हैं। वैसे इन दोनों के बीच दोस्ती का एक रिश्ता आज भी कायम है, लेकिन यह भी सच है कि ये दोनों एक साथ किसी फिल्म में काम करने से इंकार करते रहे हैं। इन दोनों की पहली फिल्‍म 'मैं खिलाड़ी तू अनाड़ी' थी, लेकिन फिल्‍म 'धड़कन' में इस जोड़ी ने कमाल का अभिनय किया था।(तस्‍वीर:पब्लिसिटी स्‍टील्‍स) IBN Movies
अक्षय कुमार और रवीना टंडन का नाम लेते ही फिल्‍म 'मोहरा' का बारिश वाला गीत याद आ जाता है और उनकी जबरदस्त केमिस्‍ट्री आंखों के सामने तैर जाती है। इस फिल्‍म के दौरान अक्षय और रवीना ने काफी समय साथ गुजारा था और दोनों जल्द ही सगाई भी करनेवाले थे, लेकिन अचानक दोनों अलग हो गए। यह 'हॉट' जोड़ी फिल्‍म 'मोहरा' के अलावा 'खिलाड़ियों का खिलाड़ी' में भी नजर आई थी, जिसने बॉक्‍स ऑफिस पर हंगामा बरपाया था।
अक्षय नई हीरोइनों पर भी अपना जादू चलाने में कामयाब रहे। करीना कपूर और अक्षय की हॉट केमिस्‍ट्री पर्दे पर लोगों को खूब पसंद आई। दोनों ने फिल्‍म 'कमबख्‍त इश्‍क', 'टशन' और 'दोस्‍ती:फ्रेंड्स फॉरएवर' में एक साथ काम किया।
अक्षय और बॉलीवुड की देसी गर्ल प्रियंका चोपड़ा पहली बार फिल्‍म 'ऐतराज' में नजर आए और खूब सराहे गए। लेकिन इस जोड़ी पर ट्विंकल सहित सभी को 'एतराज' होने लगा। सुनने में आया कि इनके इश्‍क की अफवाहों से ट्विंकल भी बेहद परेशान हो गईं। लेकिन अक्षय ने फौरन यह फैसला कर लिया कि वे प्रियंका के साथ काम नहीं करेंगे और उधर प्रियंका ने भी यही फैसला कर लिया। हाल ही में फराह खान अपनी अगली फिल्‍म 'तीस मार खान' में प्रियंका को लेना चाहती थीं, लेकिन 'पिग्‍गी चॉप्‍स' ने मना कर दिया और उनके बजाय कैटरीना कैफ को वह फिल्म मिल गई।
Akkie the 'Lucky' has Katrina
अक्षय कुमार ने कई अभिनेत्रियों के साथ काम किया, लेकिन कैटरीना कैफ के साथ काम करने के बाद जिस तरह से उनकी किस्‍मत खुली वैसी किसी और के साथ नहीं खुल पाई। और इस तरह कैटरीना बन गईं अक्षय के लिए भाग्‍यशाली। यह खूबसूरत जोड़ा कई फिल्‍मों में एक साथ नजर आया है और साथ ही बॉक्‍स ऑफिस पर कामयाब भी रहा है।
अक्षय कुमार और अब बॉलीवुड से गुम हो चुकीं अभिनेत्री आयशा जुल्‍का की जोड़ी बीते समय की शानदार जोड़ियों में एक थी। दोनों की जोड़ी ने फिल्‍म 'खिलाड़ी' में काफी लो‍कप्रियता हासिल की। फिल्म में इन दोनों की केमिस्‍ट्री आज भी लोगों को याद है। फिल्‍म के गाने 'वादा रहा सनम' और 'खुद को क्‍या समझती' काफी लोकप्रिय हुए थे। इन दोनों ने और दो फिल्मों में काम किया था।
Akshay Lara became the first partner
अभिनेत्री लारा दत्ता ने अपने फिल्‍मी करियर की शुरूआत अक्षय कुमार के साथ फिल्‍म 'अंदाज' से की। फिल्‍म में बेहतरीन अभिनय के लिए लारा को फिल्‍मफेयर की नवोदित अभिनेत्री का पुरस्कार भी मिला जीता। अक्षय और लारा 'भागमभाग' और 'ब्‍लू' के बाद जल्‍द ही साजिद खान की फिल्‍म 'हाउसफुल' में नजर आएंगे।
And it's Akshay's real life partner ...
आदमी दिन भर चाहे जितना भी घूम ले, भटक ले, लेकिन शाम ढलते ही वह घर लौट आता है, अपनी पत्नी से प्‍यार पाने के लिए। अक्षय और अभिनेत्री ट्विंकल खन्‍ना वर्ष 2001 में परिणय बंधन में बंध गए थे। शादी के बाद ट्विंकल ने अपना फिल्‍मी करियर छोड़ दिया। ट्विंकल आज-कल एक इंटीरियर डिजाइनिंग एंजेसी की सह मालिक हैं। इस खूबसूरत जोड़ी का एक बेटा भी है जिसका नाम है अरव। (तस्‍वीर:पब्लिसिटी स्‍टील्‍स) IBN Movies
Posted by

Mahendra
at 7:13 AM
0 comments


Posted by

Mahendra
at 4:41 AM
0 comments


Latest Blog Update